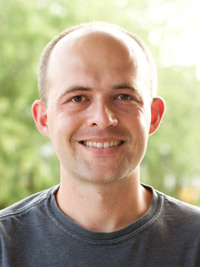 About me
It began in December 1977. Kind of a late Christmas gift for my parents.
Some years, places of residence and schools later I started to study theology. I.e. first I learned at a Bible College the rather practical side of this profession before 2003 I began my M.Div. studies.
After graduating at the FTH in late 2007 I moved to Wroclaw, Poland. During the next year I was an assistant of one of the Dogmatic teachers at the Evangelical School of Theology here in Wroclaw. But after the one year I did not move back to Gießen, Lemgo, Volkmarsen or any other German city Ialready had lived in. No I stayed together with my new wife (she is also my first wife, though) here in Wroclaw.
Today I work at a Open Brethren Assembly in Wroclaw. So I gather new experiences and btw. polish my Polish and get to know better the polish culture and mentality.
On the long run I want to serve God here in Poland both as a pastor and teacher. If You want to get to know me and my work better, please, write me a letter or an email. I will keep you up to date about my work via this web page and my prayer letters.
Markus Karzelek